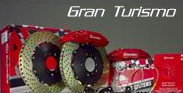 Product line GT:
This product line is directed to the most demanding customers. The braking system derives from racing components and it is composed of rotors (ventilated, integral or composed) available both in drilled and in grooved version. 4, 6 and 8 pistons calipers, a complete set of performing brake pads and metallic braid hoses.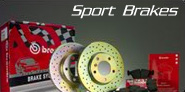 Product line SpPlace:
This is the basic line of the High Performance Brake System. It is a braking system consisting of two integral discs, available drilled, and a completer set of High Performance Brake Pads.



Sport Brakes set are consisting: brake pads and metallic braid hoses.
Prices from: € 399.-
Gran Turismo set are consisting: brake pads, pistons calipers and braid hoses.
Prices from: € 2650.-